Department of Redundancy Department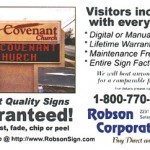 Church signs have always been a bit humorous to me. And as technology progresses worldwide, I think they simply keep getting worse. I'm not sure who designs these things, but the sign companies need to invest in real graphic designers. News Flash: You're giving the church a bad name… er, face.
But until today, I'd never seen anything quite like this.
A postcard advertising church signs of the highest quality came to my attention. On it, the sign company has included a picture of what we can only imagine is their current best install (or perhaps their most recent): New Covenant Church.
It must have been quite an upsale to get the church to purchase a digital LED board to go with their sign. I can hear the salesman now… "Sure, the sign can say anything you want it to say for free… that's the beauty of using an LED message board as part of your sign solution."
And what does the church choose to use their new LED add-on for?? THE NAME OF THE CHURCH, it would seem. To me it seems a bit redundant.
So whom is more at fault? The church, for putting the name on both the analog and digital portion of the sign? Or the sign company, for snapping a picture of the faux pas and using it in their advertising.
Or perhaps, it is both/and.
ps – Don't forget that visitors are included with every sign! ;)