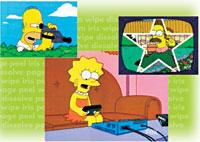 For a certain period of my life, the Simpsons was on my list of most-watched TV programs.  In college, it was a weekly event.  The Simpsons' occasionally irreverent, but often insightful, humor has always stretched my mind.  One of my favorite moments of dialogue rightly lampoons amateur videographers:
Lisa: OK, I finished editing the gardening sequence. . .

Homer: OK, from here we star wipe to a glamour shot of Flanders paying his bills, then we star wipe to Flanders brushing his teeth. . .

Lisa: Dad, there are other wipes besides star wipes. . .

Homer: Why eat hamburger when you can have steak?

Lisa: I'm taking my name off this thing.
Whether it is video production, preaching, or otherwise, do us all a favor: Avoid the flashy effects… keep it simple, clear, and clutter-free.
Your audience will thank you.
Other Posts You Might Enjoy