written May 2003
NINE DAYS TO COMMENCEMENT
There are no shortcuts to any place worth going.
~Beverly Sills
Today was my last class. Period. Even maybe forever. My cousin recently asked what grade I was in. After thinking for a moment I replied, "Nineteenth grade." It all ended today.
The reflection in the mirror was my own. I'd seen it many mornings before. Shaving, brushing, rinsing, gelling. These were all part of my routine — a tradition that has served me well for most of those nineteen years. Today was different though. The man looking back at me was not the boy that I once remembered. Now there is permanent 5 o'clock shadow… a gift from my father. My hair is also curlier these days, a gift from my mother. The face I see is broad and shows slight sign of aging. Creases are faintly visible and close inspection reveals several gray hairs — which I blame on three stressful years of full-time work and school.
I fastened the last button on newly opened and pressed white shirt. It gleamed even in the dim light of my bathroom. French cuffs were new to me but seemed to fit this occasion. I fastened the cufflinks to the shirt and looked at my reflection once again, this time admiring the positives of the man that looked back at me. This was a day that I had fought long and hard to see — a difficult road no doubt. I saw maturity, humility, and strength. I was proud of the man looking back at me. After a sharp tie and black jacket were added to the dress shirt, I was complete. Today would be the last day of my education and it was a serious moment.
In nine days I will become the first member in my family to obtain a Master's Degree. Three years of my early twenties was the ransom paid as a down-payment on my future. The road has been long though and the journey hard. Pulling into the lot of Dallas Theological Seminary brought with it a flood of emotion. The sun pierced the trees and the heat permeated the morning calm. I made my way to my final class at a more leisurely pace than usual. Tucked under my arm was a Bible given to me by my Pastor/mentor, Dr. E.G. Robertson — the man who taught me what ministry was. This early-twentieth century Moravian leather Oxford King James edition had been given to him by his mentor long ago. It seemed appropriate (if not necessary) to use it on this final day.
Oddly enough we were in the final stages of studying the book of Revelation. Are there coincidences? As I ended my three-year Master degree and seven-year Biblical education it was strangely fitting that Revelation would be the final words I would hear. "Surely, I am coming quickly. Amen. Even so, come, Lord Jesus!"
The fat lady sang.
As I exited the building I left behind my Graduate education. But more importantly, I took away a deeper knowledge of who I am and a greater hope of who I might now become.
EIGHT DAYS TO COMMENCEMENT
If you feel that you have both feet planted on level ground, then the university has failed you.
~Robert Goheen, Time, 23 June 1961 
(I wrote this in October of 2000, weeks after starting Seminary and days after starting at PW Baptist Church….)
"My Refuge. This is the only adequate description of what God has been to me since graduation in June of '00. After an immediate time of rest and commune with Christ, I felt certain of God's leading to Dallas Theological Seminary. A quick application process, and an almost overnight move to Texas left me lost and alone in a strange land. With only enough money to survive for 2 months, classes beginning, no work in sight, and a heavy heart, I began what would become the wildest adventure of my life. In the beginning, it seemed as though everything was wonderful… but it soon ended as I felt the restlessness of God in my soul.
The only answer was to shake up my entire life for the second time since graduation. I left my job of 3 weeks at a premier Dallas Video Post House, dropped out of Greek, and applied for a degree transfer all in the same day. No longer could I ignore the Lord. Yet I was scared at what might lie ahead. Little did I know there was no reason for fear. That evening I arrived home to find 3 messages on my machine. And in a wonderful show of His love and care, God sent three job offers my way that same day.
And then the tears came.
Oh what a Saviour! Since then, the ride has been fast and furious. I am now in a 2-year program at DTS, to acquire a Master of Arts in Christian Education degree. I'm also a member of staff at PW Baptist Church. Associate Producer for Television, to be exact. And to round out what free time I have left, the Lord has given me several friends locally and allowed me to stay in contact with many old friends from the 'Ville. Would I have ever guessed I would be here at this point in my life? Of course not.
In many ways life far exceeds what I had ever hoped, but does not measure up to my dreams. For both, I am thankful. And with these past few months of craziness comes a lesson that only God could truly teach: Following Him, sometimes means following in the dark. Its trusting in a person instead of a roadmap."
SEVEN DAYS TO COMMENCEMENT
My alphabet starts with this letter called yuzz.
It's the letter I use to spell yuzz-a-ma-tuzz.
You'll be sort of surprised what there is to be found
once you go beyond 'Z' and start poking around!
~Dr. Seuss
A – Temple Christian School.
B – Kindergarten. Ms. Waddell. Snack time every day with homemade cookies most of the time.
C – First Grade. Mrs. Zimmerman. Cool games in the back of the room and trading sessions with classmates. Bible Baseball. Two recesses.
D – Second Grade. Mrs. Oetzel. Favorite teacher. Kindness and love. Swinging on a vine over a creek in the woods at her house.
E – Third Grade. Mrs. Baker. My Aunt. A trip to Kings Island. Fights with the fourth grade class. Not the smartest kid, for the first time.
F – Fourth Grade. Ms. Meredith. Most homework ever. "Preparing us for College." Burned out.
G – Fifth Grade. Mrs. Williams. Last year of Christian school. Reagan leaves office. Class dwindles to nothing.
H – Fayette Central Elementary School.
I – Sixth Grade. Mrs. Barricklow. Nature freak… in a good way. First public school experience. Amy, Jenn, and Tracy.
J – Connersville Junior High School.
K – Seventh Grade. Worst experience of my life. Tormented and introverted.
L - Eighth Grade. Hardened and embittered. Learn to hate self and others.
M – Connersville High School.
N – Ninth Grade. New start. Found theatre. Made friends.
O – Tenth Grade. Quit French. Excelled in theatre. Began to grow again spiritually.
P – Eleventh Grade. Left theatre. Found Broadcasting. Took Japanese
Q – Twelfth Grade. Excelled in Broadcasting. Decided on Christian College. Began killing the Introvert.
R – Cedarville College.
S – Freshman. Changed life. Found Radio. Double Major: Bible / Broadcasting. Brent, Leah and the gang.
T – Sophomore. Radio Production. Bethel Hall. NewsBriefs. Mike, Steve, Eric, and the gang.
U – Junior. Station Manager. Room 13. Juggling almost kills me.
V – Senior. Station Manager. M3 hall. Ministry. Seth, Geoff, Goob, and the gang.
W – Dallas Theological Seminary.
X – Entering Student. Move2Dallas. Lose self, find God. ThM –>MACE. PW Baptist Church. Assoc. Producer, Television.
Y – Continuing Student. Struggle to stay focused. Producer.
Z – Graduating Student. Changes in every part of life. Worship Producer. Ordained Reverend.
Yuzz . . .
SIX DAYS TO COMMENCEMENT
"Careful. We don't want to learn from this."
~ Calvin 
Memorable Moments in my Education
Kindergarten
: I learned that sneaking an erasure into class then showing it to girl next to you will always result in being caught and losing your cookie for the day.
First Grade
: I learned that getting into a fight is not something Mom would be proud of, though I was.
Second Grade
: Leaning back in your chair will normally result in busting your head on the desk behind you if you are as clumsy as I am.
Third Grade
: I learned that life isn't fair, but friends lick Josh, Annette, Tony, and David make life better. After not winning the top award in the class, for the first time, I learned that I didn't have to be the best to still have significance. The best lesson I ever learned. Sometimes good enough, is good enough.
Fourth Grade
: I learned that homework is something to be loathed. Also, sometimes if you hit a kid bigger than you are he won't fight back, only cry. Oh yeah…. I also learned that sometimes straight hair turns curly when one hits puberty (and never goes back straight).
Fifth Grade: I learned that I didn't like Christian Education as much as I once did. Also, being the teacher's pet is not always something that classmates appreciate about you.
Sixth Grade: I learned that public school kids are sometimes better behaved than Christian School kids. Also, girls are much more exciting to hang around at recess than boys.

Junior High: I learned what it meant to be salt and light in a dark world. Also, I learned just how introverted and backward I could be. I crawled into a shell and stayed the for several years. I also learned to hate busrides and the kids that sat in the back of the bus. Oh yeah…. I also learned that my sarcasm and humor is not well appreciated when it is directed at your teachers.
High School: I learned that there are Christian teachers and administrators in the Public School system. I learned that life isn't always fair. Also, I learned that I like theatre, but I love broadcasting. I learned that I could be a Christian, and be myself, and some people would accept me and other would not — either way, it didn't really matter. School board don't always do what's best for the students. I appreciate you Dr. Kaiser!
College: There are way too many lessons to print here, but let me try: "My Times are in Your Hands. If Cedarville has taught me one thing, it is the sufficiency of my Lord. I came to Cedarville not knowing what to expect, and now I leave amazed at how God changed me so much. As I stand teetering on the brink of the rest of my life, it is impossible for me to not reflect back on the past 4 years… the things learned, the experiences had, and the friends made. It is all a blur right now, and the shock of being at the end is paralyzing. It will take years for me to come to terms with all the Lord allowed me to experience here. Where did the time go? . . . and more importantly to me, did I run the race well? You see, I viewed college not as an opportunity to get all I could for myself, but as an experiment in how much I could give to others. There are many people and situations that I wish I'd have handled differently. The thought of those are still painful. But there are also the high points… the late night bike rides, the bootcamp where Koerbel and I became friends, the late nights in Collins, the move to Bethel, the late night conversations in Bethel, Bethel freshmen, the move to Manager of U99.5, the radio people I got to serve, the move to McChesney, the blessing of life with Seth, the freshman in McChesney, video after video… and the list goes on. Regrets? None. Early on, I instituted an open door policy… it was my goal as an upperclassman to build into others lives, just as so many had done for me. We live in a 'me' and 'my' world where everyone's goal is self-reliance. But God did not intend for us to live that way! For all who visit and read this who are friends and acquaintances of mine, it is my hope that you will stay in touch. Please continue to 'test' my open-door policy… even if you can only do it electronically. I will see you again in Heaven, but I would prefer not to wait that long. Write now! . . . I love all of you, and cherish the memories we made. You will be in my prayers for a long, long time."
Seminary: ….
FIVE DAYS TO COMMENCEMENT
The Famous "Wear Sunscreen" Commencement Address
by Chicago Tribune columnist Mary Schmich
Ladies and gentlemen of the class of '97:Wear sunscreen.If I could offer you only one tip for the future, sunscreen would be it. The long-term benefits of sunscreen have been proved by scientists, whereas the rest of my advice has no basis more reliable than my own meandering experience. I will dispense this advice now.Enjoy the power and beauty of your youth. Oh, never mind. You will not understand the power and beauty of your youth until they've faded. But trust me, in 20 years, you'll look back at photos of yourself and recall in a way you can't grasp now how much possibility lay before you and how fabulous you really looked. You are not as fat as you imagine.Don't worry about the future. Or worry, but know that worrying is as effective as trying to solve an algebra equation by chewing bubble gum. The real troubles in your life are apt to be things that never crossed your worried mind, the kind that blindside you at 4 p.m. on some idle Tuesday.
Do one thing every day that scares you.
Sing.
Don't be reckless with other people's hearts. Don't put up with people who are reckless with yours.
Floss.
Don't waste your time on jealousy. Sometimes you're ahead, sometimes you're behind. The race is long and, in the end, it's only with yourself.
Remember compliments you receive. Forget the insults. If you succeed in doing this, tell me how.
Keep your old love letters. Throw away your old bank statements.
Stretch.
Don't feel guilty if you don't know what you want to do with your life. The most interesting people I know didn't know at 22 what they wanted to do with their lives. Some of the most interesting 40-year-olds I know still don't.
Get plenty of calcium. Be kind to your knees. You'll miss them when they're gone.
Maybe you'll marry, maybe you won't. Maybe you'll have children, maybe you won't. Maybe you'll divorce at 40, maybe you'll dance the funky chicken on your 75th wedding anniversary. Whatever you do, don't congratulate yourself too much, or berate yourself either. Your choices are half chance. So are everybody else's.
Enjoy your body. Use it every way you can. Don't be afraid of it or of what other people think of it. It's the greatest instrument you'll ever own.
Dance, even if you have nowhere to do it but your living room.
Read the directions, even if you don't follow them.
Do not read beauty magazines. They will only make you feel ugly.
Get to know your parents. You never know when they'll be gone for good. Be nice to your siblings. They're your best link to your past and the people most likely to stick with you in the future.
Understand that friends come and go, but with a precious few you should hold on. Work hard to bridge the gaps in geography and lifestyle, because the older you get, the more you need the people who knew you when you were young.
Live in New York City once, but leave before it makes you hard. Live in Northern California once, but leave before it makes you soft. Travel.
Accept certain inalienable truths: Prices will rise. Politicians will philander. You, too, will get old. And when you do, you'll fantasize that when you were young, prices were reasonable, politicians were noble, and children respected their elders.
Respect your elders.
Don't expect anyone else to support you. Maybe you have a trust fund. Maybe you'll have a wealthy spouse. But you never know when either one might run out.
Don't mess too much with your hair or by the time you're 40 it will look 85.
Be careful whose advice you buy, but be patient with those who supply it. Advice is a form of nostalgia. Dispensing it is a way of fishing the past from the disposal, wiping it off, painting over the ugly parts and recycling it for more than it's worth.
But trust me on the sunscreen.
FOUR DAYS TO COMMENCEMENT
At commencement you wear your square-shaped mortarboards.
My hope is that from time to time you will let your minds be bold,
and wear sombreros.
~Paul Freund
This morning I made the trek downtown to Seminary again, as I have done so many days before over the last three years, completing the last piece of official business that I must attend to. I picked up my commencement regalia, waiting for me on the third floor of Walvoord Hall in a nice box and bag. I almost cried.
The gown –unlike my undergraduate piece — was of excellent quality and craftsmanship. The workmanship of the gown seems to increase proportionately with the level of the degree it represents. The gown I wore at Cedarville was some unnatural blend of polyester, held together with cheap thread and ill-fitting in all the wrong places. The hood for that gown was beautiful though, featuring the gold and blue school colors on the chevron and outlined in beautiful scarlet red signifying my degree in Bible. I was glad that the gown was black though because wrinkles and imperfections were less noticeable. Unfortunately this was not the case with my high school robe.
Connersville Senior High School colors were red and white. And in a tradition that is probably maintained by 98% of high schools, the gown colors were chosen based on the school's colors. In our case the men wore red and the ladies white. We ALL wore white stoles… not hoods, but stoles. The robes came shrink-wrapped in a square and if you did not want creases all over your gowns from the folding, you had to hang it up for about 3 weeks before the graduation. You could not iron them — that was out of the question — because they would have melted immediately. I've owned ponchos that were of higher quality.
No such story with my Master's robe. Now THIS is a robe! It is black and made of fabric. Nice fabric. It is long, and flowing, coming on a hanger and pressed to perfection. It is stunning with its extended sleeves and perfect pleats. The hood is also longer and fuller than that of my undergrad. The colors of the chevron are gold and purple (DTS's own) and it is trimmed with felt that is white as snow. The officially designated color of the Master of Arts in Christian Education degree is white. The tassel is also white, bearing at its tie-point a gold "2003″ medallion.
I can't put it on. I can't bring myself to wear it yet. It is not that we have been told to refrain from putting on the regalia… it is simply that I am in awe of it. As it hangs on the door to my office I am prone to steal a glance at it every few minutes. It is somewhat surreal to see it hanging there majestically.
I've worked hard to gain the right to wear that regalia. When I put it on for the first time this weekend I will be accepting a Master's degree. A Master's Degree!! A quarter of the population holds a Bachelor's degree, but only 6 percent of the population have obtained a graduate degree. God has blessed me beyond measure and deserve. There were many times over the last three years that I seriously considered not continuing on with my education. The road has been long and path difficult to arrive at this destination. It is only by God's grace and the influence of friends that kept me on the path.
It is interesting to note that these 'costumes' have been in existence for over 800 years. This academic regalia came to represent the Bachelors of Arts (the apprentices), Masters of Arts (the teachers), and Doctors (teachers who had completed postgraduate studies). The dress worn by faculty and graduates during Commencement ceremonies is based upon costumes used in fourteenth and fifteenth century universities, particularly Oxford and Cambridge in England. This style of academic dress and accouterments has been used in the United States from colonial times. Like the military of medieval times with its pages, squires, and knights, the academic world has long recognized three basic levels of dignity and achievement; these are: undergraduates, bachelors and masters. The distinction between masters and doctors is a relatively recent phenomenon; both masters and doctors levels of achievement imply the right to teach.
This morning I made the trek downtown again, as I have done so many days before. I picked up my regalia, waiting for me in a nice box and bag. I almost cried.
THREE DAYS TO COMMENCEMENT
I would rather stumble a thousand times
attempting to reach a goal,
than to sit in a crowd
in my weather-proof shroud,
a shriveled and self-satisfied soul. 

I would rather be doing and daring
all of my error-filled days,
than watching, and waiting, and dying,
smug in my perfect ways.

I would rather wonder and blunder,
stumbling blindly ahead,
than for safety's sake
lest I make a mistake,
be sure, be safe, be dead.

~Anonymous
Today has been filled with thoughts of the future.
I can't exactly put my finger on why my thoughts have been drifting down the road ahead. One might think that it is because graduation is less than three days away, but that would be too obvious to be the case. Unless God has other plans for me I see no changes coming in my life in the near future.
But yet my mind wonders…
For the first time in years I will have nothing other than my job tying me down. There is no family to keep me here, no educational to force me to stay. I could leave just as easily as I could stay.
I love my job. Er, I like my job. At times I love it; at times I loathe it. This is probably the norm for any ministry. I love the people I minister with. They are half of the reason I wan't to stay. The other half is purely selfish: this job allows me a platform for career growth and outreach that few others provide. And here is my paradox….
Am I setting my course for the future on the basis of what I think I want for my life, or what I am convinced God has for me? I am not sure that I can answer these questions right now. If it is difficult to see the forest for the trees, it is even more troublesome to see the future from the bubble of a Biblical education institution. For that exact reason I plan to spend the next few months re-aligning my compass.
True North.
Who knows what God wants me to do? Who has any idea where He is leading me? I will be the first to admit that I have no idea. The next few weeks, even months, will be spent re-directing myself. True North is where I need to redirect my compass — my life.
I pray that God will allow me leave and reprieve to correct the course that should have never lost its north.
TWO DAYS TO COMMENCEMENT
You cannot help but learn more as you take the world into your hands.
Take it up reverently, for it is an old piece of clay, with millions of thumbprints on it.
~John Updike
A graduation ceremony is a rite of passage. It is a ritual (ceremony) that marks a person's move from one stage of life to another. Anthropologist Arnold van Gennep coined the phrase "rite of passage" in 1909. He theorized that a true rite of passage required a three step process:
1. Separation from Society
2. Inculcation-transformation
3. Return to Society in the new status
I can think of no better way to describe the last three years of my life (maybe even the last seven, including undergrad). What God has done in my life has been extrordinary! Refering to yesterday's post you will know that I still see myself as lost and uncognizent of the lessons God has taught. Do not misunderstand that post to mean that I am not aware of God's work in my life — it is only the extent to which God has worked that currently eludes me. I am a changed man — of that I am sure. The commencement ceremony two days from now will signify that fact. According to Gennep, all passage rituals (even graduation ceremonies) fulfill certain universal functions:
1. Dramatize facing new responsibilities, opportunities and dangers
2. Readjust the participant (and all in their social circle) to these chan
3. They establish solidarity and sacredness of common values
My home Pastor from Indiana, Pastor Robertson, arrived today. I had the opportunity to join him at dinner this evening. What a blessing and support this man has been to me! When your pastor flies across the continent to attend your Seminary graduation, you know that this man has quality stamped all over him. The only analogy for this relationship that comes to mind is that of the Apostle Paul and Timothy.This is the beginning of the end.In a few hours my parents will arrive. We will rush from the airport to Graduation Chapel on the other side of Dallas. Lunch will happen right after that, then we'll have some down time. The rest of the family arrives Friday afternoon (including my grandparents who are traveling from the tri-state for the first time ever) and we will attend a Texas BBQ on the DTS campus. Saturday morning is Commencement, then the reception in room A201. That afternoon we will probably travel the city and watch spend time together as a family. Sunday is church — arguably the most important part of the weekend. I often joke that my family comes down here to attend church and I am only an added benefit. This is not far from the truth. After a Mother's Day lunch we will pack up and head to Galveston so my grandparents can see the ocean/gulf for the first time, and then Monday it all ends and I become a normal contributing member of society again (or for the first time, depending on your point of view).
ONE DAY TO COMMENCEMENT
Recollect as ministers, that your whole life,
your whole pastoral life, especially,
will be affected by the vigor of your piety.
~C.H. Spurgeon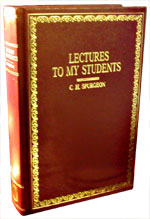 A book came in the mail today. Not just any book but one by the "Prince of Preachers" C.H. Spurgeon.
Lectures to My Students
was transcribed from actual classes taught by Spurgeon to men attending the Pastor's College of England in the late 1800′s. A copy of this book was given to me during my senior year at Cedarville College…..
After four years of my life had poured into studying I was finally graduating with a Bachelor's degree. These had been the best days of my life, so far. Cedarville had taught me lessons about myself that I never imagined I would learn. Walking across the platform of the Dixon Ministry Center to accept my diploma brought as much fear as it did joy. What was next? Did God have something exciting way for me? When would I find it? Was I the only person who had no idea what the next step held??
A week after graduation I was living at home waiting to see the next step. God had never let me down in the past, why would He now? I knew that waiting on Him and finding myself was more important than acting rashly and taking the wrong path. On a warm June morning I pulled out a book my Pastor had given me called Lectures to My Students. Heretofore I had little to no interest in reading the random musings of a dead 19th century Pastor. I was wrong. By the end of the first chapter I was hooked.
Through his lessons to students who were entering the ministry Spurgeon was speaking directly to me! He spoke on the call to the ministry, the preacher's private prayer on the choice of a text, on the voice, the Holy Spirit in connection with our ministry, posture, action, gesture, etc., the blind eye and the deaf ear, and on conversion as our aim illustrations in preaching. Spurgeon changed my life. In his witty and practical way he showed me that ministry was bigger than myself and I was running from fear of commitment rather than fear of being inadequate. I knew beyond a shadow of a doubt that the next step was Seminary.
After hastily submitting all of the application materials to Dallas Theological Seminary (and eventually being accepted) I was on my way to the next step of my life. The next chapter of the book was about to begin, the one which tomorrow now ends. These last three years have been a roller coaster ride like no other I have ever experienced. God has taught me that I am wholly inadequate for any job to which He has called me. During these Seminary years I have been inadequate more times than I care to count. Sometimes I allowed God to fill in the difference while other times I failed miserably by going it alone.
Had it not been for the clarity that came those two weeks of summer in 2000 while reading Spurgeon, I would not be graduating tomorrow.
It is wholly fitting that I should receive a new copy of this out-of-print edition of Lectures to My Students the day before my graduation from Seminary with Master of Arts in Christian Education (my previous copy was borrowed several years ago and never returned. they probably found it as helpful as I did). Tomorrow morning when I walk the platform of PW Baptist Church and accept my diploma this book will be sitting on my office shelf several yards from the Worship Center where I have served for three years.
Spurgeon says "…master the books you have. Read them thoroughly." If I only had one other book besides the Bible to own, this would most likely be it.
COMMENCEMENT
"Nobody said it was easy
Oh it's such a shame for us to part
Nobody said it was easy
No one ever said it would be so hard
I'm going back to the start"
~Coldplay, The Scientist 
ENDINGS
Three years ago I had walked onto the campus of Dallas Theological Seminary with a spring in my step and hope in my heart. It was a warm and sunny August morning in 2000. I was alone in Texas. There were no friends, family, or jobs to keep me company. The city seemed so large and assuming, and me so insignificant. The importance of that morning was not lost on me. A page had been flipped and a new chapter had begun. I stopped a passerby and politely asked if he would mind taking a picture of me to send home to my family. His name was Jayceson, and weeks later he would become a member of a 2-year small group I was in… I doubt he even remembers that morning. I have never forgotten it.
That day lives in my memory in vivid detail. It is one of those moments that seem etched into our memories in High Definition. We relive these moments in a sort of slow-motion, as if there is too much detail to recall in real-time. The days after it turned to weeks, the weeks to months, and the months to years as time sped by. This day three years ago impacted my future forever. Today would be another milestone…
THE MORNING DAWNS

The sun rose early on Commencement morning. I rolled out of bed with more ease than normal and tried to shower and shave without letting thoughts of the days activities cloud my emotions. White and starched. The new french-cuff shirt gleamed. I'd bought my first cuffed shirt, along with cufflinks, earlier in the week. It looked nice. I looked mature and in control of my life… two emotions that I did not currently feel. Wrapping the tie around my neck brought thoughts of College and how far I'd come since then. I'd chosen this tie precisely because it reminded me of Cedarville, its alternating blue and gold stripes seemingly apropos today. My hair was in place, suit was on, and I was ready to go.
DOES THIS MAKE ME LOOK FAT?
Black may be slenderizing, I'll grant you that, but yards and yards of it pleated into the form of a full-length gown certainly is not. My only comfort was the thought that 350 others would be similarly dressed. As I pulled on the robe and zipped it up in front I felt an overwhelming sense of accomplishment. I had earned the right to wear this and it was through no small effort that I had made it to this day. The hood was outlined in white felt (signifying a Master's degree in Christian Education (Church Educational Leadership, if you care)) and hung around my neck with style and prestige…. well, prestige at least.
You may think me weird and self-absorbed for placing so much importance on these garments, mere regalia some will say. The man who says such has never suffered at the hands of a graduate education. He has never looked failure dead in the eye and seen that he could just as easily quit and be happy. He has never eaten Ramen noodles and spaghetti for months to pay the thousands of dollars required to attend such an institution. He has never been a part of something bigger than himself, something that he could not do apart from the grace and mercy of God.
To me, this day was not about accomplishment, education, or degrees. This day was about sticking with something because God told you to, not because it was easy or fun. It was about knowing that I was graduating because I stayed the course for three years enduring great personal sacrifice.
ALL GOOD THINGS… must come to an end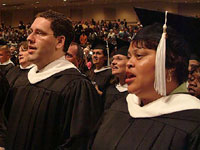 I had the good fortune to be lined up next to a friend I made in school. Sabrina was a middle-age african american lady with several children and an ISTJ personality to boot. She could have easily passed for being younger than me though, and I enjoyed her personality a lot. We laughed in the line-of-march and waited to enter the sanctuary where our degree conferral would occur. Thoughts of the past, present, and future filled our minds.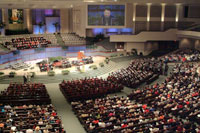 Prestonwood's sanctuary was almost full. The lower level was packed. Cameras were flashing everywhere. Was this a high school graduation or a graduate school commencement? My family, seated almost on the back row, was standing and waving. Their smiles were enormous. I am not sure what I expected but their faces surprised me. Nadine had an enormous grin and was waving fiercely. Mom was crying and had a look that was both filled with love and sadness in it. Dad was pride. Grandma was love. Grandpa was kinda blank.

I enjoyed this one the most.The organ began to play and with sweet sounds of melody and harmony we struck out into "Great is Thy Faithfulness." Prestonwood's organ is the world's largest electronic organ. Don't ask me how I know this. They don't play it much anymore but today it strutted its stuff in style and I was reminded how beautiful it sounds in the sanctuary. In pseudo-surround sound the organ's music came from every direction and took me closer to the throne room of God than i have been in a long time. This was the day, the moment, that I had waited so many years to experience. Some 30 pews behind me sat my family who also had waited so long for this day to come.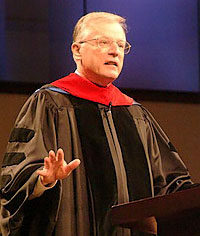 Erwin Lutzer, Pastor of the great Moody Church in Chicago, stepped to the pulpit to speak. He captivated us. He charged us to walk the walk and keep the faith, to preach what God wanted us to say and not necessarily what they wanted to hear. He spoke to us of commitment and dedication to our call…. fervor for our passion. It is a message that I will long remember.
Standing together, we had our degrees conferred. Our lives changed that moment… not in a way that was noticeable or even perceptible… but they changed. We felt it. We were all different people. I was a Master of something–though probably only my own inadequacy. We walked across the platform one-by-one to shake the president's hand and accept our degree. Believe it or not this was my least favorite part of the entire ceremony. Maybe it was because I am an eternal introvert. Maybe it is because it felt dumb. Either way, it was not without humor. One guys whole church showed up with banners and pom-poms. Another guys wife (from way in the rear of the 7,500 seat sanctuary) shouted "Hallelujah" as he walked across the stage. The crowd laughed, but all of us knew what she felt. She was finally getting her husband back after years of being lost in the Bible.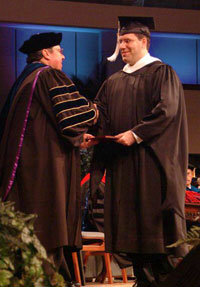 After the Master's students had all received their degrees, the Doctoral students rose and came to the front to be 'hooded' and thus receive their Doctorate. I sat in my seat looking with awe and envy. I could never have known the sacrifice they have given unless I had tasted it through my own Masters. I want a Doctorate; I always have. Those who know me well know this, though I have rarely if ever verbalized it. These thoughts flooded my mind. Unfortunately only the best of the best are able to move on from a Master's program to a Doctoral one. The rigors are hard and the requirements many. My grades at DTS were acceptable, but just under the normal requirements of a Doctoral program. The peril of working over 50 hours a week (in a church, no less) and trying to go to school full-time. This was the only sadness the day held for me. I still might one day be able to continue on, but the road will not be as easy as it might have been. Even if it happens, it is years away though… so I put these thoughts aside and smile again.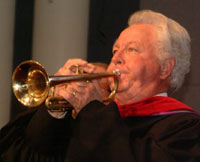 We are standing again. Chaplain Bill, who is as old-school as they come, is leading us with his trumpet. The organ is following. I love that man. I will miss him greatly, not necessarily because of his song-leading but because of his character. He is genuine… and might I say, out of place here in Dallas. We join together one last time in the Diadem.
Marching out of the sanctuary I could not help but smile. It is finished. For three years I had been saying to myself, "this too shall pass." And it did in a glorious service that signified the commencement of my future. I walked out of that auditorium a new man Saturday. I passed by Dr. Robertson, my mentor. My Mom was there, the greatest and strongest person I know. My dad was at her side, someone who has become not just a father, but a friend. Grandma was there, the spiritual matriarch of our family and the glue that's held it together for years…. and Grandpa was there… my idol… the man who weathered a heart attack 4 years ago and wasn't supposed to live through the night. I never thought he would live to see me finish College, let alone Seminary. I thank God for the time he has allowed us to have him here.
These thoughts, and many more, raced through my head that day.
What does the future hold??? ….. only God knows.